Stretches After an Ankle Injury
Tuesday, 02 May 2023 00:00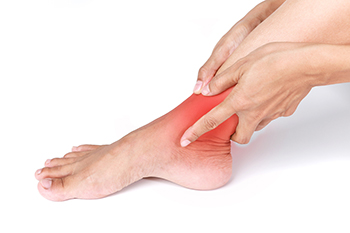 People who have endured an ankle injury often realize the importance of performing specific stretches that are designed to strengthen the foot. It is beneficial to start out slowly, then gradually increase intensity as the pain levels adjust and eventually diminish. Many people who start stretching after an ankle injury often gauge it by the pain levels. The stretches can be successfully accomplished when the pain is kept between a level of 0 to 5, with excessive discomfort rating a 10. If the pain becomes unbearable, it may help to increase resting times between movements and reduce the speed at which a stretch is done. Many patients find it is beneficial to exercise in small increments during the course of the day. This may help to prevent fatigue, and it may lead to possibly increasing repetitions. A desirable time frame to hold a foot stretch can range between 20 and 30 seconds. The goal is to increase the range of motion and the time the stretch is held. If you would like more information about the importance of performing stretching techniques after an ankle injury, it is suggested that you confer with a podiatrist. 
Ankle pain can have many different causes and the pain may potentially be serious. If you have ankle pain, consult with Milos Tomich, DPM from Dr. Tomich Foot & Ankle Health Center. Our doctor will assess your condition and provide you with quality foot and ankle treatment.
Ankle pain is any condition that causes pain in the ankle. Due to the fact that the ankle consists of tendons, muscles, bones, and ligaments, ankle pain can come from a number of different conditions.
Causes
The most common causes of ankle pain include:
Types of arthritis (rheumatoid, osteoarthritis, and gout)
Ankle sprains
Broken ankles
Achilles tendinitis
Achilles tendon rupture
Stress fractures
Tarsal tunnel syndrome
Plantar fasciitis
Symptoms
Symptoms of ankle injury vary based upon the condition. Pain may include general pain and discomfort, swelling, aching, redness, bruising, burning or stabbing sensations, and/or loss of sensation.
Diagnosis
Due to the wide variety of potential causes of ankle pain, podiatrists will utilize a number of different methods to properly diagnose ankle pain. This can include asking for personal and family medical histories and of any recent injuries. Further diagnosis may include sensation tests, a physical examination, and potentially x-rays or other imaging tests.
Treatment
Just as the range of causes varies widely, so do treatments. Some more common treatments are rest, ice packs, keeping pressure off the foot, orthotics and braces, medication for inflammation and pain, and surgery.
If you have any questions, please feel free to contact one of our offices located in Milwaukee and Wauwatosa, WI . We offer the newest diagnostic and treatment technologies for all your foot care needs.
Read more about Various Causes of Ankle Pain