The Prevalence of Broken Toes
Tuesday, 22 August 2023 00:00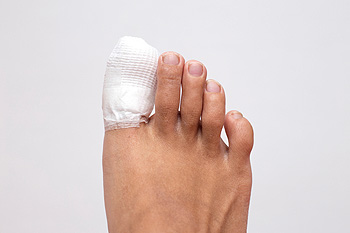 We may have all stubbed our toes into a piece of furniture or dropped something heavy on our toes and experienced intense pain. A fractured toe, particularly a pinky toe, is a common occurrence, especially because they involve small bones on the edge of the foot and are more prone to injury. When one breaks a toe, it is painful, and the toe will look bruised and swollen. If the ends of the broken bone get displaced, the toe may look crooked. It may be painful to walk with a broken toe, particularly if one breaks their big toe because this toe takes more weight when walking. Most broken toes can be treated at home. The buddy taping method is frequently used, which involves taping the broken toe to the toe next to it for stability. Wearing comfortable, enclosed, and sturdy shoes that do not press against the broken toe should also help. The only way to be certain a toe is broken versus being sprained or strained, is to have an X-ray taken. If a broken toe is associated with another injury or problem, if the big toe is the affected toe, if the skin is broken, or the toe is displaced it is strongly suggested that you see a podiatrist for proper evaluation and treatment.
Broken toes may cause a lot of pain and should be treated as soon as possible. If you have any concerns about your feet, contact Milos Tomich, DPM from Dr. Tomich Foot & Ankle Health Center. Our doctor will treat your foot and ankle needs.
What Is a Broken Toe?
A broken toe occurs when one or more of the toe bones of the foot are broken after an injury. Injuries such as stubbing your toe or dropping a heavy object on it may cause a toe fracture.
Symptoms of a Broken Toe
Swelling
Pain (with/without wearing shoes)
Stiffness
Nail Injury
Although the injured toe should be monitored daily, it is especially important to have a podiatrist look at your toe if you have severe symptoms. Some of these symptoms include worsening or new pain that is not relieved with medication, sores, redness, or open wounds near the toe.
If you have any questions, please feel free to contact one of our offices located in Milwaukee and Wauwatosa, WI . We offer the newest diagnostic and treatment technologies for all your foot care needs.
Read more about What to Know About a Broken Toe