Concerns with Toe Walking in Children
Tuesday, 16 May 2023 00:00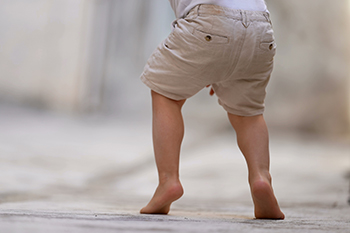 As toddlers learn to walk, they often place more weight on their toes than on the heels or soles of the feet. Experts believe that this is not necessarily indicative of any underlying medical condition or biomechanical abnormality. In fact, recent studies show that most toe walkers will outgrow this habit by the time they enter kindergarten. That said, if a child continues to walk on their toes as they get older, it may in fact may be a sign of neuromuscular or neurodevelopmental disorders, such as cerebral palsy or autism. Symptoms to watch for include stiff leg muscles, tightened Achilles tendons, and noticeable lack of coordination. Additionally, noticing a period of normal walking followed by toe walking, communication problems, and other physical abnormalities may be signs to visit a specialist. In those cases, it is suggested that parents who notice these symptoms contact a podiatrist. This type of foot doctor, who is trained to recognize the significance of such behaviors, can then examine the child's gait, legs, and feet to determine the best course of action.
The health of a child's feet is vital to their overall well-being. If you have any questions regarding foot health, contact Milos Tomich, DPM of Dr. Tomich Foot & Ankle Health Center. Our doctor can provide the care you need to keep you pain-free and on your feet.
Tips for Keeping Children's Feet Healthy
Make sure their shoes fit properly
Look for any signs of in-toeing or out-toeing
Check to see if they have Clubfoot (condition that affects your child's foot and ankle, twisting the heel and toes inward) which is one of the most common nonmajor birth defects.
Lightly cover your baby's feet (Tight covers may keep your baby from moving their feet freely, and could prevent normal development)
Allow your toddler to go shoeless (Shoes can be restricting for a young child's foot)
Cut toenails straight across to avoid ingrown toenails
Keep your child's foot clean and dry
Cover cuts and scrapes. Wash any scratches with soap and water and cover them with a bandage until they've healed.
If you have any questions, please feel free to contact one of our offices located in Milwaukee and Wauwatosa, WI . We offer the newest diagnostic and treatment technologies for all your foot care needs.
Read more about How to Care for Your Child's Feet